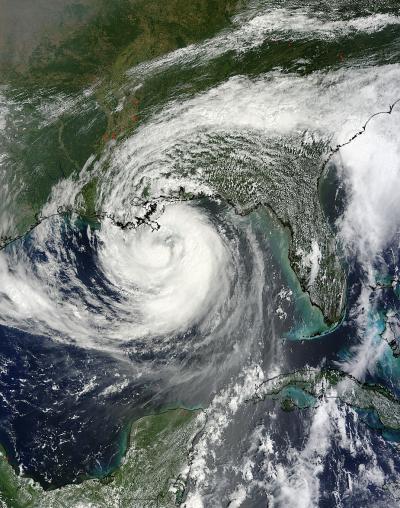 Hurricane Isaac grows and grows into what may end up being a massive storm the size of Texas that's also feeling the storm's impact
Then Tropical Storm Isaac yesterday., making its way to New Orleans











CNN reports from Grand Isles and the city of New Orleans.  Isaac's hurricane storm surge already reaches levies just outside the $14 billion main levy built after Hurricane Katrina devastated New Orleans in 2005.  Let's hope the levy 'doesn't run dry' on the people of 'The Big Easy'.  The dude on the right of Anderson Cooper is Rob Marciano. Any relation to Rocky?  A million people are expected to lose their power and Isaac may dump 20 inches of rain or more on the 'Crescent City'.
Eye of Isaac blurs half of the Gulf of Mexico, New Orleans and the Gulf Coast before fateful dawn of August 29th
3.25 pm Tuesday, August 28, 2012 
Hurricane Isaac begins to strike the coast of Louisiana at 3:25pm CDT.
Bands of thunderstorms from the giant Hurricane Isaac begin to hit New Orleans.
Isaac will lash the city of New Orleans with hurricane force winds for the next day and a half, 24-36 hours of 85 mph plus winds, of an ocean surge twelve feet high and tornadoes; the massive storm, thought by some to be the size of Texas, so far isn't packing 95 mph plus winds weathermen had feared.  
Heavy rains are striking Grand Isle and Lake Pontchartrain at this moment, not any extreme bands, yet. 
Hurricane warnings are up from New Iberia and Jeanerette, Louisiana to the barrier islands off Pensacola in Florida's Panhandle.  Flood warnings are up from Orange, the first town across the border in Texas, on the Sabine River stretching east into parts of southern Alabama, reaching toward Montgomery.  Tropical storm watches and warning reach west to around Port Author and Beaumont, Texas east to Chattahoochee, Florida and Lake Seminole in Georgia. 
Isaac's width stretches more than 300 miles from the Arkansas, Mississippi, and Louisiana border to more than 100 miles out into the Gulf of Mexico.
But Isaac's clouds size is enormous, a hurricane stretching along a line from Padre Island, Texas to Fort Myers, Florida.   
The storm now crawls northwest, hugging the coast of Louisiana, at 8 mph, slowing down but gaining strength with sustained winds of 80mph and gusts of 125mph.  Forecasters believe Isaac may reach Cat 2 force winds of 100 mph with greater gusts. Isaac will raise havoc for the next day or so. 
New Orleans and Louisiana were spared another Hurricane Katrina, as Isaac traveled over "cool eddy's" of the Gulf waters, according to the Jet Propulsion Laboratory of the California Institute of Technology.  Thanks, Cool Eddy.
Meanwhile, Isaac pushed gas prices in Butler County, Ohio this morning from 3.67 to $4 a gallon.
 Jet Propulsion Laboratory at California Institute of Technology story on why Isaac may not be another Hurricane Katrina
Cooler Waters Help Diminish Isaac's Punch
August 28, 2012
Seven years after the powerful Category 3 Hurricane Katrina caused widespread devastation along the Gulf Coast, a Category 1 Hurricane Isaac, with maximum sustained winds of 80 miles per hour (70 knots), is making landfall today in southeast Louisiana. And one of the reasons why Isaac is not Katrina is the path it took across the Gulf of Mexico and the temperature of the ocean below, which helps to fuel hurricanes.
In 2005, Hurricane Katrina's maximum wind speeds increased dramatically as the storm passed over a warm ocean circulation feature called the Loop Current that is part of the Gulf Stream. The storm evolved quickly from a Category 3 to a Category 5 event on the Saffir-Simpson Hurricane Wind Scale in a matter of nine hours as it drew heat from the Loop Current. It subsequently dropped in intensity to a Category 3 storm at landfall.
Because the Loop Current and its eddies are warmer, and thus higher in surface elevation, than the surrounding waters, they are easily spotted by satellite altimeter instruments, such as those aboard the NASA/French Space Agency Jason 1 and Ocean Surface Topography Mission/Jason 2 satellites. Scientists use the latest satellite measurements of sea-surface height from these and other satellite altimeters to create maps showing the location, direction and speed of currents in the Gulf of Mexico.
This color-enhanced image of sea surface heights in the northeastern Gulf, produced using data from available satellite altimeters, including NASA's Jason-1 and Jason-2 satellites, shows Isaac's path through the Gulf. The storm skirted around the Loop Current, then caught the outer edge of a warm eddy before passing directly over a cold eddy. The storm's track away from the Gulf's warmest waters has helped to keep Isaac from intensifying rapidly, as Hurricanes Katrina and Rita did in 2005.
Warm eddies have high heat content and great potential to intensify hurricanes, whereas cold eddies have low heat content and may even cause hurricanes to weaken, as was the case with Hurricane Ivan in 2004.
Latest Public Advisory from the National Hurricane Center in Miami
HURRICANE ISAAC INTERMEDIATE ADVISORY NUMBER  31B
NWS NATIONAL HURRICANE CENTER MIAMI FL       AL092012
800 PM CDT TUE AUG 28 2012
...ISAAC MOVING SLOWLY NORTHWESTWARD ALONG THE COAST OF SOUTHEAST
LOUISIANA...DANGEROUS STORM SURGE CONTINUING ALONG THE NORTHERN
SUMMARY OF 800 PM CDT...0100 UTC...INFORMATION
----------------------------------------------
ABOUT 30 MI...50 KM WSW OF THE MOUTH OF THE MISSISSIPPI RIVER
ABOUT 75 MI...120 KM SSE OF NEW ORLEANS LOUISIANA
MAXIMUM SUSTAINED WINDS...80 MPH...130 KM/H
PRESENT MOVEMENT...NW OR 315 DEGREES AT 8 MPH...13 KM/H
MINIMUM CENTRAL PRESSURE...968 MB...28.59 INCHES
CHANGES WITH THIS ADVISORY...
SUMMARY OF WATCHES AND WARNINGS IN EFFECT...
A HURRICANE WARNING IS IN EFFECT FOR...
* EAST OF MORGAN CITY LOUISIANA TO THE MISSISSIPPI-ALABAMA BORDER...
INCLUDING METROPOLITAN NEW ORLEANS...LAKE PONTCHARTRAIN...AND LAKE
A HURRICANE WATCH IS IN EFFECT FOR...
* INTRACOASTAL CITY TO MORGAN CITY LOUISIANA
A TROPICAL STORM WARNING IS IN EFFECT FOR...
* THE MISSISSIPPI-ALABAMA BORDER TO DESTIN FLORIDA
* MORGAN CITY TO CAMERON LOUISIANA
A TROPICAL STORM WATCH IS IN EFFECT FOR...
* EAST OF HIGH ISLAND TEXAS TO JUST WEST OF CAMERON LOUISIANA
FOR STORM INFORMATION SPECIFIC TO YOUR AREA...INCLUDING POSSIBLE
INLAND WATCHES AND WARNINGS...PLEASE MONITOR PRODUCTS ISSUED BY
YOUR LOCAL NATIONAL WEATHER SERVICE FORECAST OFFICE.
DISCUSSION AND 48-HOUR OUTLOOK
------------------------------
AT 800 PM CDT...0100 UTC...THE CENTER OF HURRICANE ISAAC WAS LOCATED
BY NOAA DOPPLER RADAR NEAR LATITUDE 29.0 NORTH...LONGITUDE 89.6
WEST. ISAAC IS MOVING TOWARD THE NORTHWEST NEAR 8 MPH...13 KM/H. A
NORTHWESTWARD MOTION AT A SLIGHTLY SLOWER SPEED IS EXPECTED OVER
THE NEXT DAY OR TWO. ON THE FORECAST TRACK...THE CENTER OF
HURRICANE ISAAC WILL CONTINUE MOVING NEAR OR OVER THE SOUTHEASTERN
COAST OF LOUISIANA OVER THE NEXT FEW HOURS...AND MOVE FARTHER INLAND
OVER SOUTHEASTERN LOUISIANA DURING THE NEXT DAY OR SO.
MAXIMUM SUSTAINED WINDS ARE NEAR 80 MPH...130 KM/H...WITH HIGHER
GUSTS. ISAAC IS A CATEGORY ONE HURRICANE ON THE SAFFIR-SIMPSON
HURRICANE WIND SCALE. SOME SLIGHT STRENGTHENING IS POSSIBLE
BEFORE ISAAC MOVES INLAND...WHILE GRADUAL WEAKENING IS EXPECTED
HURRICANE-FORCE WINDS EXTEND OUTWARD UP TO 60 MILES...95 KM...
MAINLY TO THE NORTHEAST AND EAST OF THE CENTER. TROPICAL-STORM-FORCE
WINDS EXTEND OUTWARD UP TO 185 MILES...295 KM. TROPICAL STORM
CONDITIONS ARE OCCURRING ALONG THE COASTAL AREAS OF SOUTHEASTERN
LOUISIANA...MISSISSIPPI...AND ALABAMA. A SUSTAINED WIND OF 52 MPH
WITH A GUST TO 64 MPH WAS OBSERVED WITHIN THE PAST HOUR AT
LAKEFRONT AIRPORT IN NEW ORLEANS.
THE MINIMUM CENTRAL PRESSURE REPORTED BY RECONNAISSANCE AIRCRAFT WAS
STORM SURGE...THE COMBINATION OF A STORM SURGE AND THE TIDE WILL
CAUSE NORMALLY DRY AREAS NEAR THE COAST TO BE FLOODED BY RISING
WATERS. THE WATER COULD REACH THE FOLLOWING DEPTHS ABOVE GROUND IF
THE PEAK SURGE OCCURS AT THE TIME OF HIGH TIDE...
* MISSISSIPPI AND SOUTHEASTERN LOUISIANA...6 TO 12 FT
* SOUTH-CENTRAL LOUISIANA...3 TO 6 FT
* FLORIDA PANHANDLE...3 TO 6 FT
* APALACHEE BAY...2 TO 4 FT
* REMAINDER OF FLORIDA WEST COAST...1 TO 3 FT
THE DEEPEST WATER WILL OCCUR ALONG THE IMMEDIATE COAST IN AREAS OF
ONSHORE WINDS.  SURGE-RELATED FLOODING DEPENDS ON THE RELATIVE
TIMING OF THE SURGE AND THE TIDAL CYCLE...AND CAN VARY GREATLY OVER
SHORT DISTANCES.  FOR INFORMATION SPECIFIC TO YOUR AREA...PLEASE
SEE PRODUCTS ISSUED BY YOUR LOCAL WEATHER SERVICE OFFICE.  NEAR THE
COAST...THE SURGE WILL BE ACCOMPANIED BY LARGE AND DANGEROUS WAVES.
A STORM SURGE OF 9.5 FEET WAS RECENTLY REPORTED AT A NATIONAL
OCEAN SERVICE TIDE GAUGE AT SHELL BEACH LOUISIANA.  A STORM SURGE
OF 5.7 FEET WAS OBSERVED AT A NATIONAL OCEAN SERVICE TIDE GAUGE IN
WIND...TROPICAL STORM CONDITIONS WILL CONTINUE TO SPREAD ACROSS THE
WARNING AREA THIS EVENING...AND HURRICANE CONDITIONS SHOULD SPREAD
ONSHORE ACROSS SOUTHEASTERN LOUISIANA DURING THE NEXT FEW HOURS.
WINDS AFFECTING THE UPPER FLOORS OF HIGH-RISE BUILDINGS WILL BE
SIGNIFICANTLY STRONGER THAN THOSE NEAR GROUND LEVEL. AT ABOUT THE
30TH STORY...WINDS WOULD LIKELY BE ONE SAFFIR-SIMPSON CATEGORY
STRONGER THAN AT THE SURFACE.
RAINFALL...ISAAC IS EXPECTED TO PRODUCE TOTAL RAINFALL AMOUNTS OF
7 TO 14 INCHES...WITH POSSIBLE ISOLATED MAXIMUM AMOUNTS OF 20
INCHES...OVER MUCH OF LOUISIANA...SOUTHERN MISSISSIPPI...SOUTHERN
ALABAMA...AND THE EXTREME WESTERN FLORIDA PANHANDLE. THESE RAINS
COULD RESULT IN SIGNIFICANT LOWLAND FLOODING.
TORNADOES...TORNADOES ARE POSSIBLE ALONG THE NORTHERN GULF COAST
SURF...DANGEROUS SURF AND RIP CURRENT CONDITIONS WILL CONTINUE TO
AFFECT THE WEST COAST OF FLORIDA AND PORTIONS OF THE NORTHERN GULF
COAST FOR THE NEXT DAY OR SO.
NEXT COMPLETE ADVISORY...1000 PM CDT.
FORECASTER BROWN/KIMBERLAIN/BERG
I don't know what those two dollars signs are for, but thanks "Brown Kimgerlain and Berg for a very cool Hurricane Isaac Public Advisory.